Ali's Story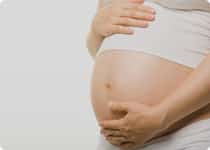 "I was diagnosed with a rare case of ovarian cancer at the age of twenty. I had both of my ovaries removed because of the cancer, and went through several months of chemotherapy. Since I didn't have ovaries, I could not produce eggs, but I was still able to carry children. For years I have feared that I would never be able to have children. I knew that I could try in-vitro fertilization and that my two sisters could be egg donors. But the thought of being able to conceive seemed so unreal and impossible.
My husband and I researched many fertility clinics but we decided to work with Santa Monica Fertility because we felt the most comfortable with Dr. Jain and his staff. Dr. Jain is extremely knowledgeable, patient and kind, the nurses are amazing and the entire staff is friendly and very helpful.
My best advice is to listen to Dr. Jain….he knows what he is doing. We wanted to transfer three embryos and Dr. Jain felt that because of the quality of our embryos we should only transfer two. At first we thanked him for his recommendation and told him we still wanted to try three. He called us the day before the transfer and patiently explained to us why he felt that we should only transfer two. Luckily we listened to him, because both embryos implanted and now we are happily pregnant with twins.
In addition, although I did not know it at the time, Dr. Jain is one of the leading doctors in the world that has success with using frozen eggs to make babies.  Since my sister, who is single and 37 years old, was able to give so many eggs, we were able to freeze several for her so if she needs them one day, she will also be able to have her own babies. Now, the gift of life that she has given me, I will also be able to give her because of Dr. Jain."
– Ali
Contact Us