David Bowie & Iman's Pregnancy Story
Although David and Iman had been trying for a while to conceive, like many other couples, it was not happening. Eventually the couple tried IVF but eventually their daughter Alexandria Zahra Jones came into the world after what Iman attributes to an African proverb. One day at a Vogue shoot Iman told Christie Brinkley, who showed up to work with her baby, that it is said in her culture that if you hold a baby for a day you will conceive, and that is when Alexandria came to be. Her youngest is the little sister to Zulehka Haywood, Iman's daughter with basketball player Spencer Haywood.
Our paths to parenthood can vary greatly, and infertility is not limited to a small number of women. It is a global issue, it is something that both men and women struggle with, many races and all economic levels. As our country's culture shifts around medicine, religion, reproductive rights, technological developments, access to testing and technology, and education, more and more people will be looking for education, information, testing and assistance. No matter where you are in your fertility journey, do not hesitate to ask questions.
If you have any questions about getting pregnant, feel free to call our office in Santa Monica. We are here to educate, assist and guide you to a healthy and happy pregnancy and family.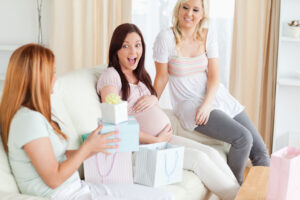 Contact SMF Today