Improved Success Rates for IVF – New Advances Increase the Odds that a Single Embryo Will Lead to a Pregnancy
Recently there have been some advances in reproductive medicine and IVF. In September the Wall Street Journal reported on some of these new techniques that may increase a patient's odds of getting pregnant through assisted reproductive technologies (ART) such as In Vitro Fertilization (IVF).
According to the CDC, usually one IVF has about a 32% chance of resulting in a live birth, and many couples and doctors will chose to implant more than one in order to increase the chances of a pregnancy. This can sometimes lead to twins, which can create more complications for both the mother and the child.
"The techniques furthest along, and already used in select clinics around the world, is called preimplantation genetic screening."
One technique we already use at Santa Monica Fertility is preimplantation genetic screening. Basically, we test the chosen embryo before making a decision to implant.
"Chromosome abnormality is the main cause of miscarriage."
Some recent studies show that utilizing preimplantation genetic screening before transferring a single embryo can be just as effective as transferring two embryos that have gone untested.
If you have any questions about preimplantation genetic screening, feel free to call or email our office with any questions. We are always happy to guide you on your fertility journey.
To read the full article, click below:
http://online.wsj.com/articles/advances-may-improve-success-rate-for-in-vitro-fertilization-1410724825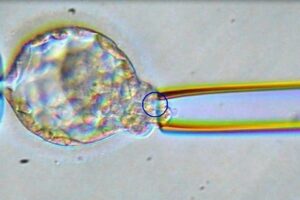 Contact SMF Today