Reproductive Endocrinologist Dr. John Jain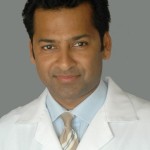 Dr. John Jain is a board-certified reproductive endocrinologist and a pioneer in the field of reproductive medicine. He has received multiple research grants from the National Institutes of Health and was appointed to the National Ethics Committee of the American College of Obstetricians. In 2006, the Pacific Coast Reproductive Society awarded him their top research prize for his innovative work on egg freezing.
Dr. Jain has twenty five years of academic experience including a decade as a decorated professor of Obstetrics and Gynecology with Tenure at the USC Keck School of Medicine. Dr. Jain has over 100 published works in the area of reproduction and biotechnology.
He remains dedicated to advancements in the treatment of women of advanced maternal age and egg quality through cutting-edge research at Santa Monica Fertility.
Dr. Jain has appeared on numerous national and international television shows including The Today Show, Dr. Oz, Dr. Phil, and The Doctors. He was the featured fertility specialist in the 2012 PBS show, My Future Baby, a comprehensive documentary about modern day infertility and Assisted Reproductive Technologies.
Education
Dr. Jain completed his BA in Classical Greek Civilization, MS in Anatomy and Cell Biology, and MD from the University of Southern California.
He completed his specialty training in Obstetrics and Gynecology and subspecialty training in Reproductive Endocrinology and Infertility at the University of Southern California where he remained a full-time faculty until 2007.
Appointments
National Committee on Ethics of the American College of Obstetrics and Gynecology – Appointed by President Vivian Dickerson, MD.
National Institutes of Health: Scientific Advisory Panel on Fertility Preservation.
National Institute for Child and Human Development: Global Microbicides Program-member of grants review panel.
Board Certifications
The American Board of Obstetrics and Gynecology Inc. (Reproductive Endocrinology), 2002.
The American Board of Obstetrics and Gynecology Inc. (Obstetrics and Gynecology), 2000.
Honors and Awards
Pacific Coast Reproductive Society – general program prize paper, 2006.
Association of Professors of Gynecology and Obstetrics Excellence in Teaching Award, 2001.
Searle Outstanding Teacher Award, 1996.
AOA Honor Medical Society, 1992.