Eating Healthy While TTC: Simple Spring and Summer Meals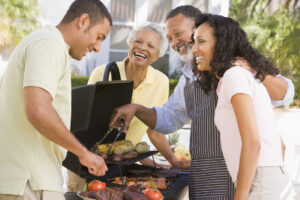 With the weather warming up, it's time to pack a picnic lunch, load up the kayak on a Sunday afternoon, and fall in love with your partner again. If you are preparing to start a family and are trying to conceive (TTC), you may have been told by your doctor to make sure you're eating healthy to maximize your chances of getting pregnant. But with so many fun outdoor activities beckoning, and the summer travel season on its way, who has time to cook anymore? Here are some simple tips to eating healthy and preparing healthy meals while TTC.
Healthy eating tips for couples who are trying to conceive
Smoothies make a healthy breakfast or snack (make sure you add in some protein, like milk, soy milk, or protein powder to keep you full between meals)
Salads (make sure to include protein with your salads such as meat, cheese, tofu, or beans)
Soups (these can be healthy or unhealthy depending on what kind of soups you eat; the right kind of soup can be a nutritional boost in your day, such as a broth-based, vegetable packed soup with chunks of roasted meat)
Grilled meat and vegetables (outdoor grilling is fun and simple way to cook with friends or as a couple; you can pick up marinated meat and vegetables on your way home from work, or experiment with creating your own recipes)
Slow cooker meals (lentil soups, bean soups, stews, roast chicken — all of these items are easy and simple to prepare in a slow cooker)
Quick stovetop meals (scrambled eggs, omelettes stuffed with vegetables, sautéed tofu, whole wheat pasta with spring vegetables, etc.)
Remember that a lot of popular healthy eating advice does not really work for couples who are trying to conceive. Check with your doctor for specific nutritional guidelines on infertility diets or what types of foods to eat if you're trying to conceive a baby. Low-calorie, fat free, and low carb diets, for instance, could negatively impact your fertility levels. High fat diets without enough protein, fruits and vegetables could also decrease your fertility. This is true for both men and women. It can also be much harder to get pregnant if you are overweight or underweight, so bringing your weight into the healthy range is often the first thing a fertility doctor will recommend to couples who haven't been able to get pregnant.
When to see a doctor about infertility
If you have been trying to conceive for 12 months or more, simply changing your eating habits or improving your lifestyle may not provide you with a solution to your concerns. If you're getting worried and you feel your fertility clock ticking, it's time to see a fertility specialist. At Santa Monica fertility clinic, we provide the state-of-the-art fertility services in a holistic, nurturing environment. From highly specified diet and lifestyle modification recommendations, to fertility tests, to IVF and mini IVF, Santa Monica Fertility Clinic offers comprehensive fertility services for couples experiencing infertility. Contact us to schedule a phone or in person consultation. We also provide egg freezing services for women wishing to prolong their fertility window. We work with patients all over the world to help them achieve their dreams of having a family. Will your baby be the next success story at the Santa Monica Fertility Clinic?